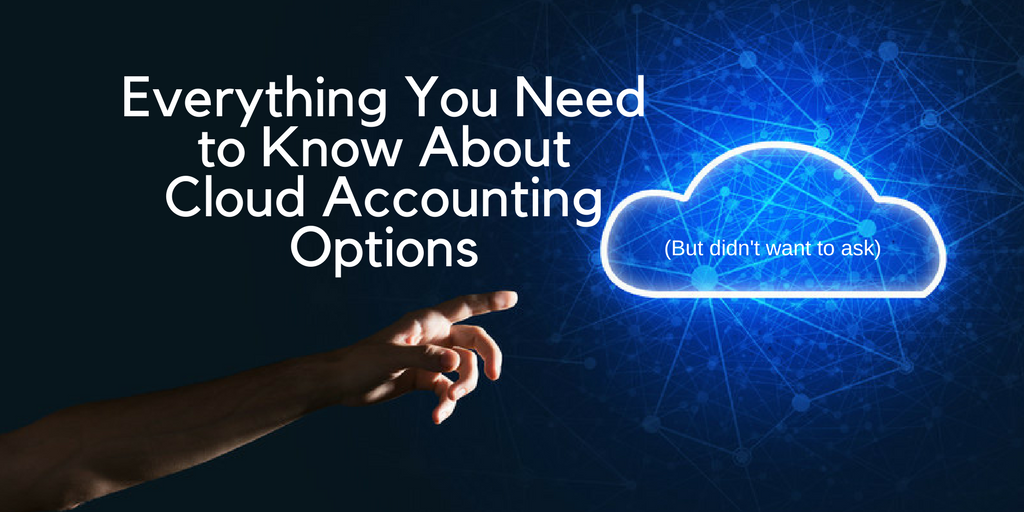 Happy holidays! As we count down the days to the end of the year and the festivities that come with it, our team here at Computrack would like to wish all our clients, partners, and readers the very best. We also have a little bit of a gift for you. In this post, I'll answer some of the most common questions I hear about cloud accounting options and who can use them.
Are you struggling to choose between traditional and cloud accounting options but don't want to admit you don't know it all? Here are the answers you've been waiting for.
What's the difference between traditional and cloud accounting options?
Everyone's heard of the cloud by now. But it's one of those things that often gets described using tech jargon and buzzwords — which means that having heard of it and really understanding it are not the same thing. But the cloud is here to stay, so understanding what it can do for you is pretty crucial.
Cloud accounting centralizes your data, making it more secure and more accessible to your team. Think of it this way: if your on-premises CRM or payroll system is your home media library, cloud accounting options are like Netflix. Anyone on your team can access what they need, when and where they choose. If your business floods or is broken into, your information is unaffected.
I keep hearing cloud accounting options are more secure, but how can that be?
There are two key factors that make cloud accounting a more secure solution than on-premises options. The first is the centralization I talked about above. Having all your business-critical data stored in the cloud means it's not vulnerable to physical threats like fire or flood, theft of your office property, or hardware failure. The other is resources. Companies that provide cloud accounting options know they can't last without your trust. They invest a lot in keeping your data secure — like hiring and constantly training experts to address new threats, and monitoring systems around the clock. Can you afford to do that?
Do I have to implement multiple systems if I need CRM, HR/payroll and inventory solutions?
Obviously, there are a lot of cloud accounting options out there, and they're not all the same. The solutions we provide at Computrack are comprehensive — you get CRM, ERP, payroll, HR, inventory management and more. Say goodbye to switching between programs and entering the same data multiple times in different systems.
What if my business is too big/too small for cloud accounting?
Short answer: it's not. The beauty of the cloud is that it can scale to suit any size business. Whether you're a small Toronto startup or a national corporation, there are cloud accounting options to meet your needs. Check out our post on how to make sure you've got the best accounting software for tips on finding a solution that fits.
Is it difficult to make the switch?
Not if you're working with the right team. Obviously, there is a bit of effort involved whenever you switch to a new system, whether or not it's cloud-based. When choosing between cloud accounting options, be sure to ask questions about what services your provider will offer to make the transition a smooth one:
Will they take time to get to know your company and understand your requirements?

Can they customize a solution so you get exactly what you need?

Do they offer staff training to help your team get started using your new system?

How much support will they provide once implementation is complete?
How do I save money by buying a whole new system? That doesn't make sense.
It's tempting to compare a single-purchase software license with the monthly costs of cloud accounting options and lean towards a license as the cheaper option. But that's not a fair comparison.
Switching to a cloud-based accounting solution is a transition from CapEx to OpEx, and that software license is only a drop in the bucket of the costs you need to consider. Don't forget that you'll need to update that software (how often can vary, but it will happen). You'll also need to upgrade your storage hardware (both to accommodate exponentially increasing amounts of data and to prevent catastrophic failure). Other costs to consider for on-premises options? Downtime for upgrades and patches, hiring someone to carry out upgrades and patches, security training to keep your IT staff abreast of new threats, software training for your whole team each time there's an upgrade, the cost of maintaining an offsite backup… the list goes on.
Will cloud accounting options let me access my data on my phone or tablet?
Again, there are a number of cloud accounting options out there, but in general, yes. Your data can be as accessible as you choose with a cloud solution. Talk to your provider about your requirements during implementation.
Can I use cloud accounting even if my business has niche requirements?
Absolutely. Cloud is not just for big business. There are cloud accounting options to suit:
All business sizes, from entrepreneur to mega-corporation

Teams that are spread out across different departments, offices, or countries

Nonprofits

and social sector organizations

Companies with specific compliance or reporting requirements
I'm not ready to commit yet. Where can I get more information?
At Computrack, we have over 30 years' experience helping clients in Toronto and Southern Ontario choose the right cloud accounting options. If you've got questions, we've got answers. Get in touch today and sit down with one of our experts to get all the information you need.