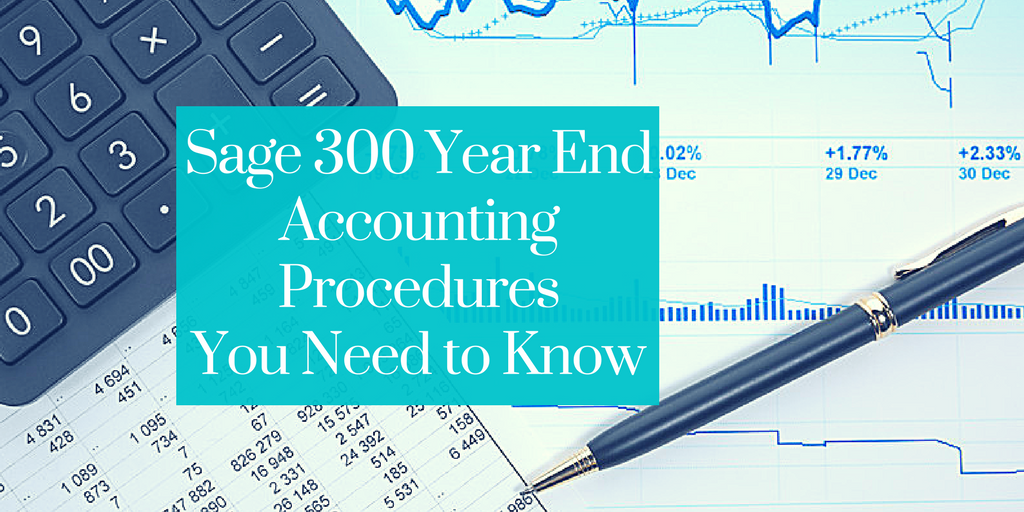 It's that time of year again. The excitement of the holidays is over and we're all back in the office and facing one of the busiest times of year for any business. We're closing out last year, firing up calendars for 2018, and gearing up for tax time. To make your life just a little easier, I thought this might be a good time to remind you about a few of Sage 300's year end accounting procedures.
Creating a New Fiscal Calendar
You don't have to wait for the year to be over to create a new fiscal calendar. It can make things easier in January if you create a fiscal calendar for the new year before you head out for the holidays. This gives you a chance to get a head start on entering the next year's budget — or the next five years' budgets, for that matter.
If your year end accounting process includes creating a new fiscal calendar, all you have to do is select Fiscal Calendar in the Common Services module. Click on the blank page beside the fiscal year.
Once you've done that, you can assign and post subledger transactions (like accounts receivable or payable) to a fiscal period in the new year. Be sure you've created a new fiscal calendar before trying to post transactions to that year.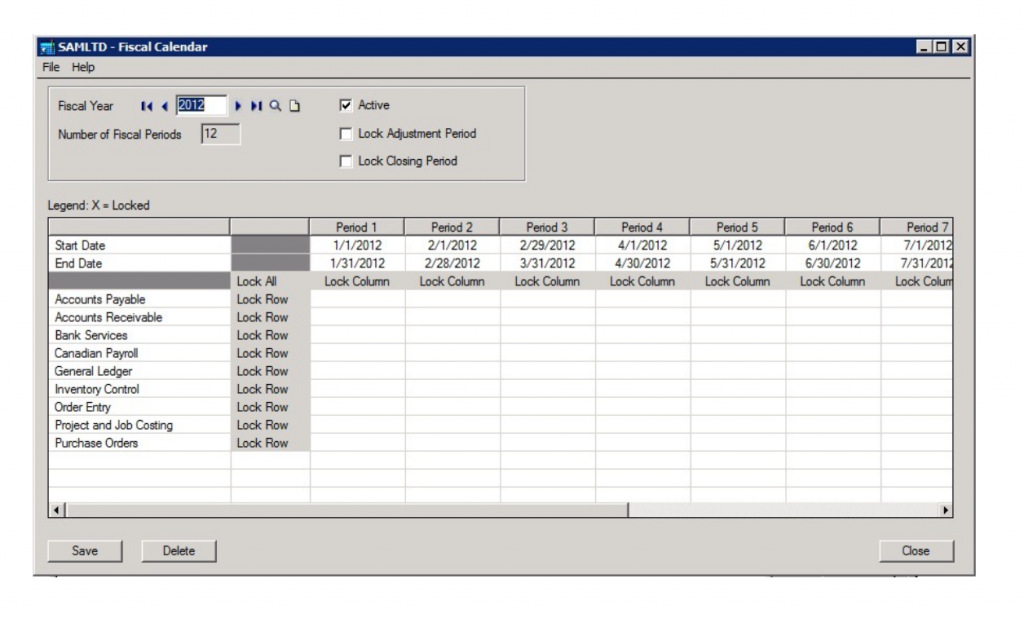 Example: Before the holidays, we created a fiscal calendar for 2018 so we could assign a 2018 date and fiscal period to an Accounts Payable invoice and post the transaction in the subledger. However, if we tried to assign a transaction to 2018 before creating that calendar, the entry would be retrieved into the general ledger. In this case, it will not post. Instead, it will create an error batch saying you can't post a transaction to a future fiscal year.
General Ledger Maintenance and Adjustments
Unlike year end accounting procedures in other systems, there is no need to close the year with Sage 300. The system can post transactions to any period in any previous year until that year is locked via the Fiscal Calendar function in Common Services.
Creating a New Year
Create a new year on January 1 or any other date. The system will effortlessly process entries to the current or previous year based on the transaction date.
Before creating a new year, ensure you haven't already done so. Confirm the current year by selecting Setup, then Options, and reviewing on the Posting page. To create a new year, select Create New Year in the Periodic Processing menu. You can do this even with unposted batches.
Period End Maintenance
If period end maintenance is a part of your year end accounting procedures, here are a few important things to remember. Before selecting Period End Maintenance in the Periodic Processing menu, you must:
Post all unposted batches.

Print and clear all posting journals. (Once you've cleared journals, you can not reprint a posting journal, even though the posting journal sequence will continue.)

Print the batch status report. (This is found in the

Reports

menu. The

Clear All Deleted and Posted Batches

command can be used at any time.)
Processing Year End Adjustments
Every business has their own particular way of organizing their books. Sage 300 ERP lets you maintain as many as 15 periods a year. The most common setups are:
12 periods, using calendar months

12 periods, using a 4-5-4 weekly cycle

13 periods of 4 weeks each
Sage reserves a 14th period you may want to use for year end accounting adjustments. This is only available via a General Ledger journal entry (identified as ADJ), not for use in any subledgers. There are two key benefits to this strategy:
It allows you to keep your final operating period free from large year end accounting adjustments. This preserves year-over-year comparability for that period.

Using a 14th period allows you to lock a previous year's regular periods to avoid accidental entries, while still allowing you to make adjustments to a previous year while working on a new year.
Sage uses a 15th period to record year end closing entries. The system can incorrectly make this period available for use in General Ledger journal entries (identified as CLS). Transactions in this period are not available for viewing in any standard report. They can be viewed using BALCLOSE and NETCLOSE functions in the Financial Reporter, but only as account totals, not individual transactions.
Accounts Payable and Receivable
As with general ledger maintenance, running the year end function for accounts payable in Sage 300 is optional. This provides flexibility for companies who:
Want to continue the numerical sequence of batches without resetting

Can't effect a clean cutoff (It may be impossible to delay processing all period 1 transactions until all period 12 transactions are processed.)
The only This Year/Last Year stats affected by not running the year end procedure are the Largest Invoice and Highest Balance figures. (Obviously, these are not business-critical numbers for most organizations.)
All transaction data (invoices, receipts, adjustments, debit and credit notes, etc.) are captured by the system according to the transaction year and period. This occurs whether or not the year end function is run. You can view this data by:
Checking the

Statistics

tab in each customer's master file

Printing a customer report from the

Setup Report

menu and selecting

Period Statistics
Running Year End
If you do wish to run year end via the Periodic Processing menu, ensure that you first:
Post all unposted invoice, adjustment, and payment batches

Print all unprinted journals

Print the batch status report, found in the

Processing Reports

menu. (You don't need to clear all deleted and posted batches — they will automatically be cleared if Reset Batch Numbers is selected.)
Clearing History
The Clear History function is often used during year end accounting processes, but it is entirely optional and can be used at any time. Many businesses run it during the year to keep their systems free of unnecessary data.
The most commonly used option in this menu is the Printed and Posted Journals option. It is important to remember that clearing journals in this manner will not reset the posting journal sequence.
Need help with year end accounting procedures? Want to learn more about Sage 300 and how it can benefit your business? Call the team at Computrack today. We've been serving small and medium-sized businesses in Southern Ontario for over 30 years.