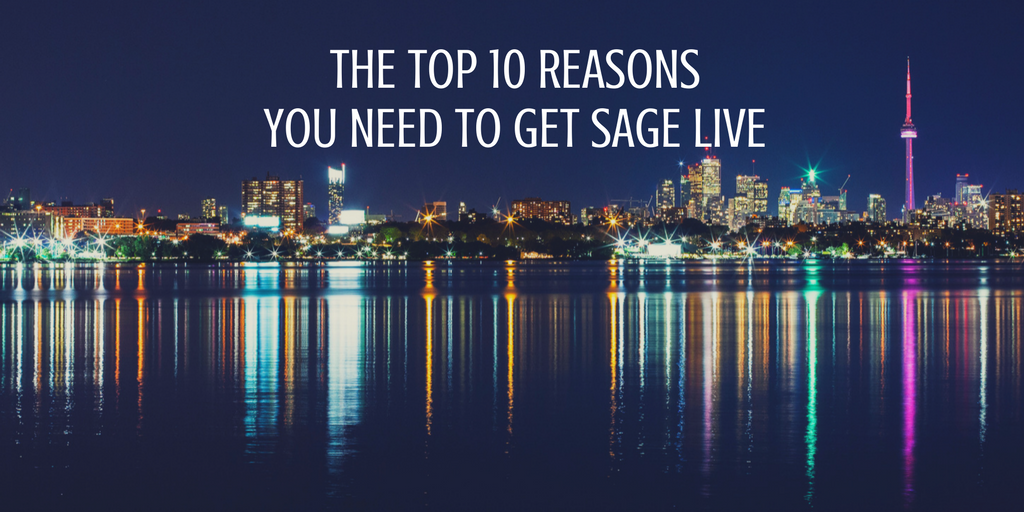 Since we announced last month that Computrack is now officially Sage Live certified, I've had a lot of questions from clients and subscribers about what exactly Sage Live is. Obviously, our team is pretty excited about it — but what does it mean to you as a business owner or manager?
Rather than give you the long-winded technical information (which, of course, you can find on our Sage Live product page), I thought I'd go late show-style and detail the top ten reasons that you need Sage Live for your business.
Here we go!
10. It's built on the Salesforce platform.
What does that mean for you? Salesforce is the number one name in CRM. Not only does that mean it's a product you can trust, but it means you'll also get all the benefits that come from integrating with Salesforce: mobile apps, regular updates, and access to the wealth of knowledge and experience in the Salesforce community.
9. It brings all your teams together.
Cooperation is always easier when everyone is on the same page. With Sage Live, you can easily integrate front lines with back office by connecting customer relations management to accounting to sales to financials. Get sales, inventory, payroll and administrative staff all working together.
8. It makes collaboration easier.
Even if you're not working across multiple teams, having more than one person handling your data at the same time has historically been tricky. With Sage Live, everyone who needs to access your data can live update, add, and edit information to ensure you're all working with the more current numbers.
7. It helps reduce errors and duplication.
Manual data entry is still a common source of errors and redundancies in small business records. By centralizing and automating systems that track orders, inventory, sales, payroll, and more, you reduce the chances of costly mistakes and ensure you don't waste resources on entering data more than once.
6. It lets you focus on what you do best.
You didn't get into business to spend hours poring over numbers and writing financial reports, did you? When you automate processes with Sage Live, you'll free yourself from hours of administrative work and give yourself that much more time to focus on what really matters: being productive and serving your customers.
5. It provides a more comprehensive view of your business.
Maybe, from where you stand, it looks like everything is running fine. But sometimes you have to examine things from multiple angles to get a complete understanding of how they work. Sage Live provides insight from a range of different views to ensure your business is operating as efficiently as possible. View your business across geographical locations, product lines, business units, or whatever best suits your organization.
4. It keeps you informed, wherever you are.
There may have been a time when you only needed access to business numbers when you were sitting at your desk, but that time is not now. Whether you're working remotely, on the road to meet a client, or just taking a break from the office, there are some things you need to know immediately. Sage Live can push notifications and alerts to most mobile devices, and you can access all your company's data from anywhere you can get online.
3. It lets you see data in real time.
Using data to make informed decisions is great. Using data from last month (or last week, or last year) to make decisions about what's happening now is… less great. One of the biggest pluses of Sage Live is the "live" part. You have access to real-time data — all the time. Make clearer, better, more informed decisions in a snap.
2. It works like it was built just for you.
Sage Live, like all the Sage products we provide to our clients, is completely customizable to suit your needs. Sure, there are great accounting or CRM solutions out there that don't come from Sage — but only Sage lets you set up your system exactly the way you want it. Do you want to have to adapt the way your company runs to the software you use? I didn't think so.
And the number one reason you should be using Sage Live is:
Sage Live empowers you to scale and grow.
It doesn't matter how big or small your company is, Sage Live will give you room to scale your operations up or down as you see fit. Whatever the future of your company may be, Sage Live is there to support you on the way. Want to learn more about how Sage Live can benefit your business? Get in touch with our experts today.